Buffalo is home to world-class architecture, amazing community history, and resurgent city nightlife – but quick hint – it's all best explored on two wheels.

And there's no better way to take it in than with a guided bike tour from Buffalo Bike Tours – taking you to places that only the locals know. Tours provide fresh, original, and offbeat ways to see the city – through story, song, food, and bikes!
Today we take you inside our top 5 highlights from Buffalo Bike Tours' History Ride: the Best of Buffalo by Bike.
1. GUARANTY BUILDING – GRANDADDY OF SKYSCRAPERS
A must-visit for any stay in Buffalo is the Guaranty Building, a towering structure that is quite literally breathtaking. It was built by modernist architect Louis Sullivan for Sullivan & Adler in 1896 and its terracotta facade epitomizes the optimism at the turn of the last century. Just look at that detail!
Sullivan thought of the building as a new kind of office building – with its emphasis on vertical lines, it was the nation's first skyscraper. You may have heard of Sullivan's quote "form follows function" – he was the first architect to consider the relationship between architecture and people.
2. OLMSTED'S PARKWAYS – THE BEST DESIGNED CITY IN AMERICA
A great place to start exploring Buffalo as a biking destination is its extensive system of parks and parkways. They were planned by Frederick Law Olmsted, best known for designing New York City's Central Park. His park system for Buffalo was intended to connect people to nature and you can ride for miles through the tree canopies and wide boulevards.
Olmsted's plan is complemented by another titan in Buffalo history, Joseph Ellicott. Ellicott's originally laid out the city in a radial street grid pattern, creating circles, parks, and plazas. These designs today stand as innovative as they were more than 200 years ago – and are great for exploring by bicycle.
3. MICHIGAN STREET CORRIDOR – BIRTHPLACE OF THE NAACP
Buffalo has some amazing civil rights history which can be explored at the Michigan Street Corridor. On Buffalo Bike Tours' History Ride, we'll visit the Colored Musicians Club – a union hall and jazz club born out of segregation, where legendary musicians like Count Bassie, Duke Ellington, Ella Fitzgerald, and Billie Holliday frequented. The club is the last remaining establishment of its kind.
We'll also see the Michigan Street Baptist Church, a key site where underground railroad abolitionists like Frederick Douglass and WEB Du Bois spoke. In addition, hear about woman's rights pioneer Mary Talbert and the founding of the NAACP in Buffalo, the Nash House Museum, and how Buffalo's historic black community connects to today.
4. HOTEL HENRY – FROM PYSCH WARD TO RESORT
A highlight on our History Ride is always a stop at the Hotel Henry, a former mental institution that has been renovated into a resort. The complex was originally conceived by Dr. Thomas Kirkbride who sought a more humane treatment for people with mental health issues and enlisted the help of architect Henry Hobson Richardson.
The asylum closed in the 1970s and has since been renovated to a high-end hotel with a great cafe and restaurant. It's the perfect place for a pitstop – where bike riders can grab a snack or coffee before returning to our Watchtower location.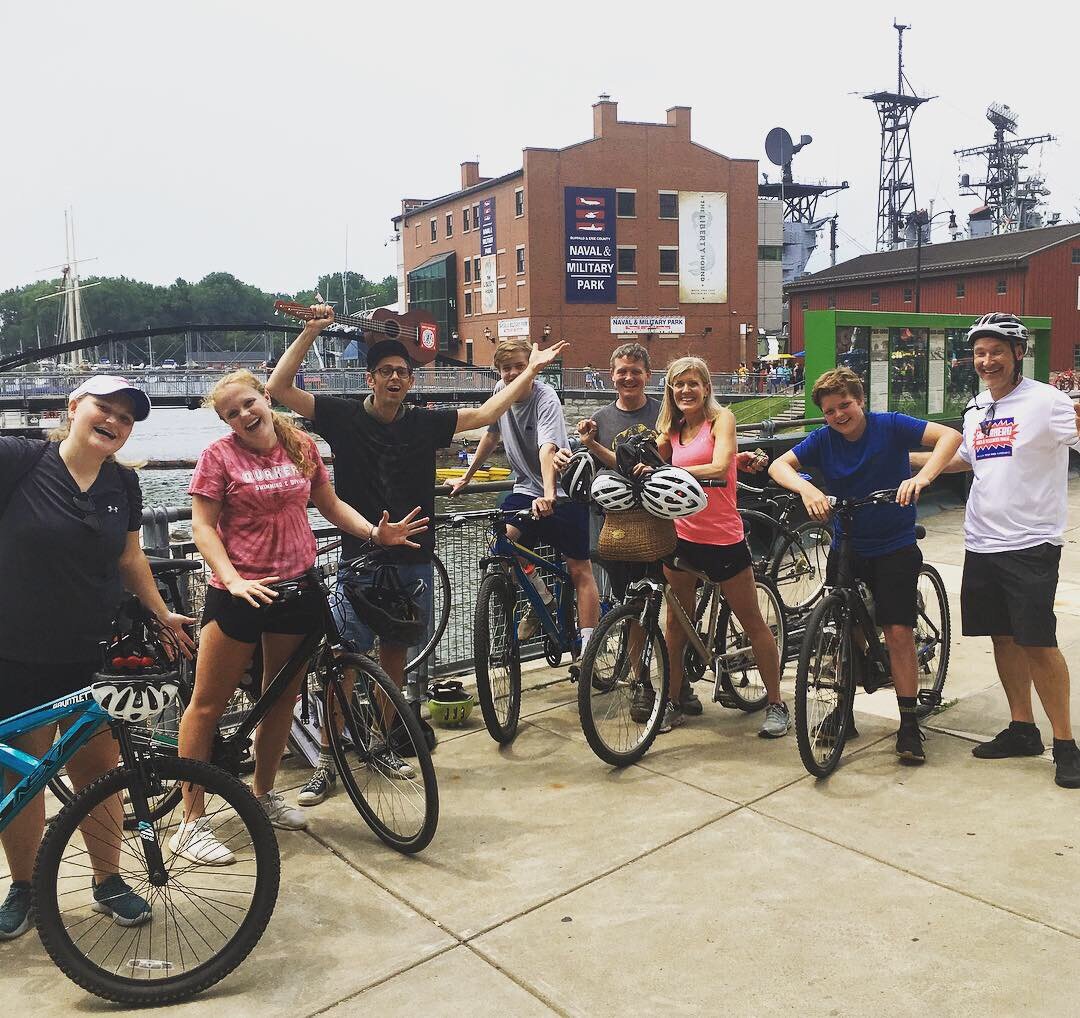 5. CANALSIDE – BUFFALO'S LIVING ROOM
No visit to Buffalo is complete without a stop at Canalside, where all of Buffalo Bike Tours' rides depart and return to. The park's origins date back to the early 1800s, when Buffalo opened the Erie Canal, connecting the Atlantic Ocean to the Great Lakes. Business boomed with as many as 6,000 immigrants arriving a day. The area grew to be a wild red-light district – sometimes referred to as "The Most Evil Square Mile in America".
Today, the area is being revitalized with year-round events. From free concerts to zumba classes – be sure to spend a few hours exploring its shops, restaurants, and attractions – or catching a brilliant sunset.
BUFFALO TOURS: EXPERIENCE BUFFALO ON TWO WHEELS!
While you're in town, consider sightseeing with Buffalo Bike Tours.
Our Buffalo history tours bring the city's past to life through unforgettable stories, songs, humor, and local insight. Or, consider taking one of our Buffalo food tours, where we take you to some of Buffalo's best kept secret foodie places – from chicken wing joints to new pop-up restaurants.
Or do a tour on your own with one of our self-guided tours of Buffalo. Buffalo bike rentals are also available. Check out our entire schedule here. Ready to discover the real Buffalo? Book your tour now.