BUFFALO TOURS: HOW A BIKE TOUR COMPANY FLOURISHED DURING COVID-19
2021 was a wild and unpredictable year. From COVID-19 to a politically-charged national and city election cycle, this year was full of surprises. Despite uncharted waters, Buffalo Bike Tours grew by leaps and bounds, hosting more tours and expanding in more directions than ever before.
GROWING OUR TEAM AND TOURS
This year, Buffalo Bike Tours added two new tour guides (Tour Guide Leanne and Tour Guide Matthew), we hosted hundreds of people from around the world, and took things to a new level with new tour collaborations with several community-based groups. Season highlights included a tour with Chris Hawley of Broadway Fillmore, a street art tour with University at Buffalo's Arts Collaboratory, an installation art tour with PLAY/GROUND, a Louise Bethune Birthday tour with No Illusions, and the triumphant return of our Haunted Buffalo Ride. That's above and beyond the many dozens of rides we led day in and day out. Phew!
Enjoy this highlight reel from our 2021 memories.
BUFFALO'S CHICKEN WING TOUR TAKES FLIGHT
2021 saw Buffalo Bike Tours receive critical press attention, largely due to our Wing Ride and work to celebrate the memory of John Young. What started out as a tour became a vehicle to remember Buffalo's culinary history and honor a black history pioneer.
Check out the major media stories by the New York Times, USA Today, Buffalo News, and Food Network (soon!). It was amazing to see such critical attention being paid to John Young and our city. A definitive highlight was being featured by Vice Media. Watch the 13-minute documentary below.
JOHN YOUNG BUFFALO CHICKEN WING MURAL
This year, Buffalo Bike Tours proudly partnered with Lina Brown Young to launch a fundraising drive to fund a mural honoring her father, John Young. The owner of Wings N' Things, Buffalo's first chicken wing restaurant, Young specialized in "unadulterated" whole wings dipped in his secret mumbo sauce. We went on to host chicken wing pop-up events, raising money one chicken wing at a time, in addition to revamping our popular tour, the Wing Ride.
With the support of our GoFundMe Campaign backers support, we commissioned John Baker and the Urban Arts Collective to create the John Young mural. Working with a team of artists around the clock, the team faithfully reproduced the design originally by William Cooper and Dalton Easton. We would like to also acknowledge the Baird Foundation and Buffalo Niagara Medical Campus for their generous support in bringing this project to fruition.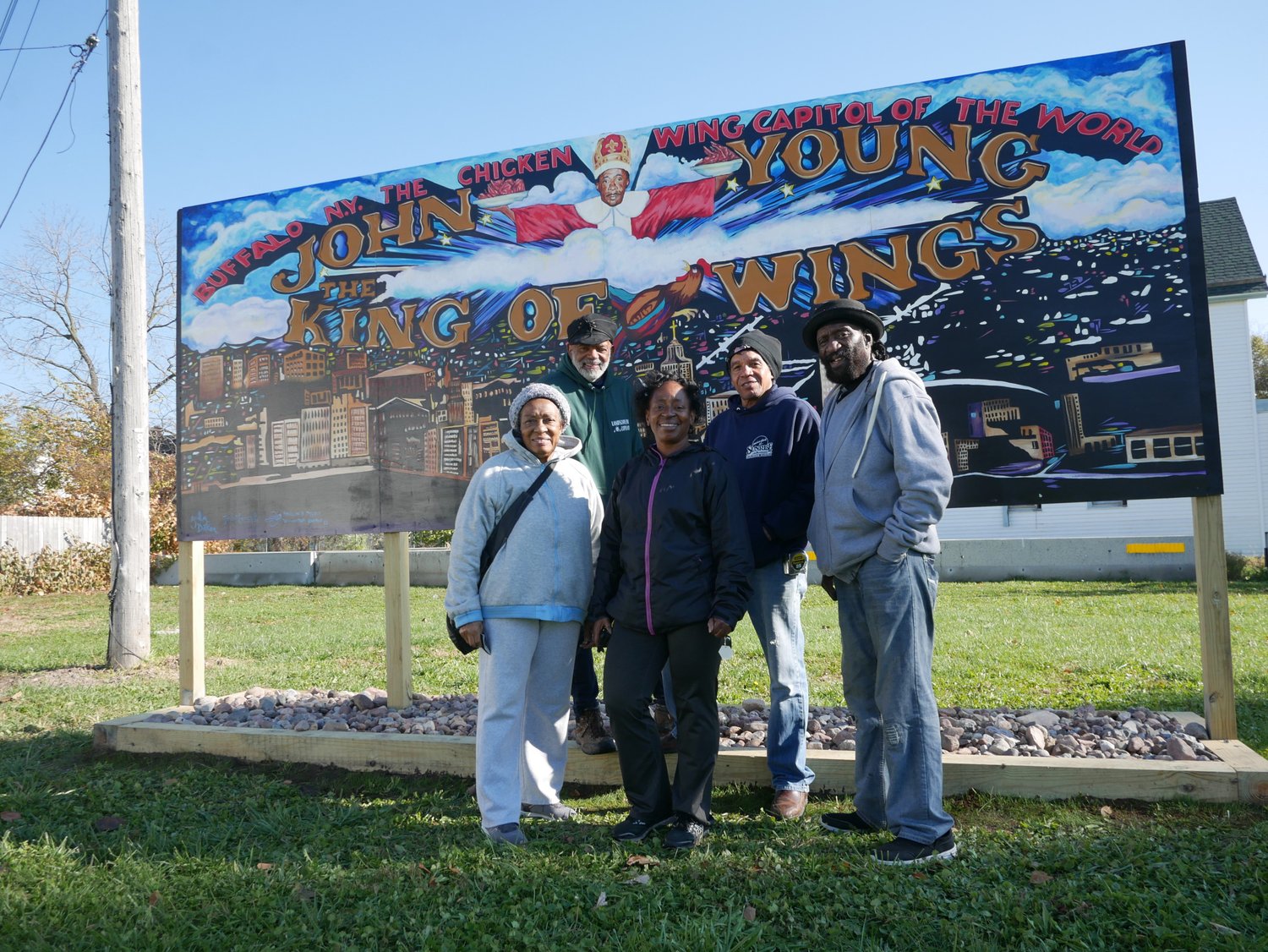 Installation took place last week and the piece looks great! No sooner was it in the ground than we received a nice article on Buffalo Rising, and a feature by WIVB News.
Buffalo Bike Tours will host a formal reception for the mural in the spring. Solar lights, signage, and landscaping will also be installed and will be celebrated with a public bike ride to coincide with the start of Buffalo Bike Tours 2022 season. Look for details in April.
GIFT CARDS: GIVE A BUFFALO BIKE TOUR
Looking for the perfect gift for your family this holiday season? Consider purchasing a gift card from Buffalo Bike Tours! Give them something greater than a material possession: gift them an experience they'll remember.
Explore our city's rich history and architecture on one of our history tours. Or, sample some of Buffalo's best restaurants and hidden gems on one of our food tours. Either way, gifting a tour is an awesome way to share with your loved ones, spend quality time, and create memories together that will last long after the ride is over.
Gift cards can be purchased as a set amount or for the exact ticket price. Head to our gift card section and pick one up for the holidays today.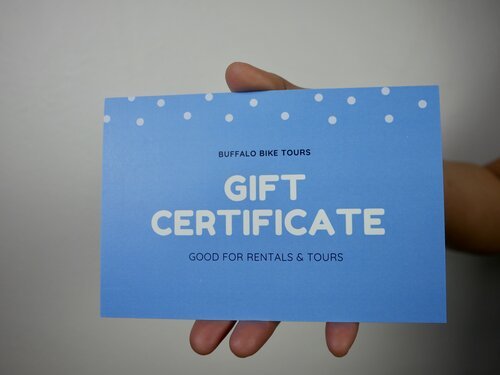 BUFFALO TOURS: EXPERIENCE BUFFALO ON TWO WHEELS!
So what are you waiting for? Check out our tour page and sign up for one of our public tours. Or, if you're from a company or planning a party, check out our private tours and team building activities. While you're at it, be sure to check out our bike rental program. We'll see you soon!