As the 2020 season draws to a close, Buffalo Bike Tours proudly announces the return of its B/Sides Ride Tour in September and October. This tour examines the legacy of Buffalo's underground history and is being brought back in the wake of current social unrest and the run up to the general election. 
The B/Sides Ride tells an alternative narrative, connecting the city's storied past to the present through story and song while addressing histories including the labor movement, civil rights, and LGBT/ alternative culture. On today's blog, we wanted to take a moment to highlight a few of our favorite tour highlights…
BUFFALO BLACK HISTORY AT THE MICHIGAN STREET CORRIDOR
With our city's attention on Black Lives Matter and racial justice, Buffalo Bike Tours celebrates the stories of perseverance of Buffalo's communities of color. Buffalo has a long and proud black history that can be traced back to the Michigan Street Corridor. While much has changed to the once bustling neighborhood, there are some significant landmarks visited on the B/Sides Ride.
Among our tour stars is Mary Talbert, best known for her instrumental role in co-founding the Niagara Movement, a precursor to the NAACP. Michigan Street Baptist Church is another key stop, rumored to have been a stop on the underground railroad. We delve further by visiting other nearby sites including Colored Musicians Club and Nash House Museum, and talk about how segregation and other factors continue to to affect Buffalo today.
LGBT HISTORY IN BUFFALO
The B/Sides Ride honors Buffalo Pride by visiting the freshly painted Stonewall Nation: WNY LGBT History mural. We use the mural as stopping point to talk about The Mattachine Society, Buffalo's pioneering LGBT organization. We also drop by the former site of Ralph Martin's, a legendary club that hosted drag shows, same sex dancing, and was subject to police raids.
BUFFALO'S ANTIWAR HISTORY
The B/Sides Ride highlights Buffalo's war resistance movement including the story of the Buffalo 9. This little-known event found two conscientious war objectors (Bruce Beyer and Bruce Cline) taking sanctuary in the First Universalist Unitarian Church, leading to a police standoff that made national news at the time. Learn about the crazy story, its aftermath, and how it relates to the church's mission today, in addition to the broader context of Buffalo during the 1960s.
BUFFALO'S HISPANIC HERITAGE
Buffalo has a rich Hispanic Heritage thanks in part to our industrial base. Explore its history as we ride along Niagara Street and take in several stories. We'll also see Betsy Casañas mesmerizing mural, commissioned by the Albright Knox, and learn of its community-inspired process.
WOMEN'S RIGHTS HISTORY IN BUFFALO
The B/Sides Ride also highlights women's rights issues in Buffalo. We'll drop by two separate buildings designed by the first woman architect, Louise Bethune. We'll discuss women artists from Buffalo and their role in the suffrage movement. And, perhaps most importantly, we'll highlight the efforts of Buffalo United for Choice, a group that fought back Operation Rescue in the 1990s.
BUFFALO UNDERGROUND HISTORY ON THE WEST SIDE 
Moreover, the B/Sides Ride aims not to be just another history tour. Rather, Buffalo Bike Tours aims to tie this history to the present by highlighting current community social justice efforts. Along our bike route, we'll visit radical bookstores, worker owned cooperatives, small businesses, and groundbreaking nonprofit organizations that are working to both enact economic development Buffalo but also push for social justice.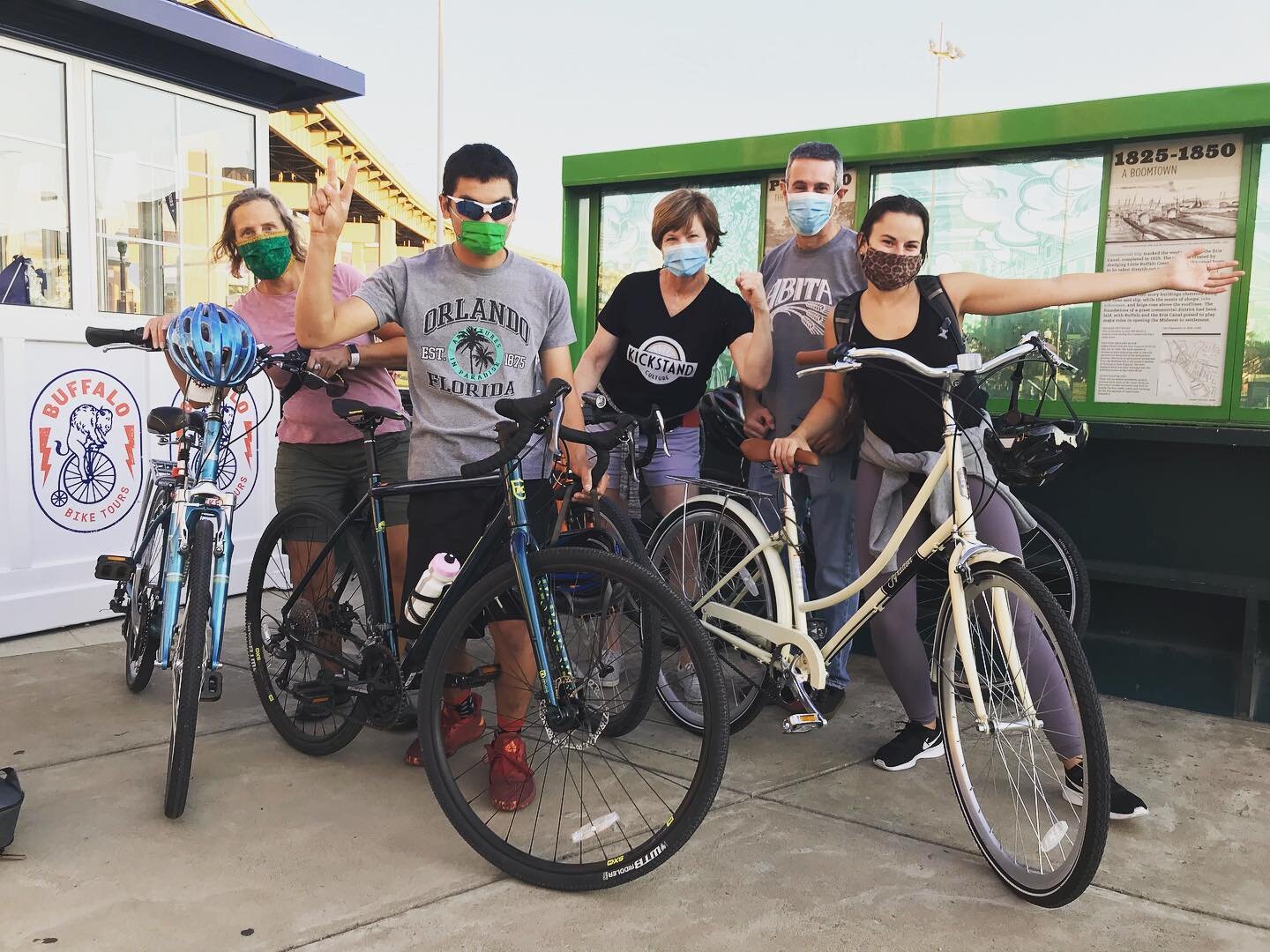 BUFFALO TOURS: EXPERIENCE BUFFALO ON TWO WHEELS!
What are you waiting for? See our B/Sides Ride tour page and sign up for one of our public tours. Or, if you're from a company or planning a party, check out our private tours and team building activities. While you're at it, be sure to check out our bike rental program and full schedule of Buffalo tours. We'll see you soon!