AN INSIDERS GUIDE TO BUFFALO'S BEST BREWERIES
Buffalo, NY is home to a growing number of craft micro breweries and alcohol distillers. But if you're visiting, you may not be sure where are the best places to check out. So on today's blog we're bringing you our Insiders Guide to Buffalo's Best Breweries.
(Full disclosure: we lead food tours and history tours by bike, which bring you to many of the city's best spots – on two wheels!)
BUFFALO BREWING HISTORY 101
Buffalo and beer go hand in hand. The first brewery in Buffalo opened in 1811 in Black Rock by Joseph Webb. A year later, the entire city of Buffalo burned in the War of 1812. One of the only buildings saved was Margaret St John's beloved bar. Much later, in the 1920s, Buffalo became a hotbed for The Mafia. Illegal booze run in from Canada through Buffalo's West Side was a staple of the local economy.
Meanwhile, Buffalo's large German population grew to master the craft. Due to Buffalo's location on Lake Erie, Buffalo was the transportation and grain capital of the world. With that, came opportunity for grain-related industries and Buffalo's breweries flourished.
Brands like Iroquois Brewery and Simon Pure Brewery have long faded but some buildings still remain. Many survived Prohibition by producing "near beer".
Many of these companies were forced out of existence by corporate pressures during consolidation in the 1960s. And for a while, things for the Buffalo brewing industry looked pretty dismal. But if you think that's going to stop us, you don't know Buffalo. Just check out this incredible map of Buffalo's rich brewing history – past to present!
Map shows locations or approximate locations of Buffalo breweries, malt houses, distilleries, wineries, cider houses, and meaderies from 1828 to the present. Some breweries had on-site malt houses (i.e. Beck, Lang, Germania, etc.), so those were classified only under breweries to prevent duplication.
THE CRAFT ACT: BUFFALO BREWERIES ON THE RISE
In 2014, Governor Andrew M. Cuomo signed the craft beverage law ("The Craft Act"). This cut requirements placed on producers and eased restrictions on breweries in NY. He also gave over $3 million in economic support and tax incentives for brewers across the state. This has led to an emerging community of craft brewers in Buffalo, NY. Drawing on the city's historical roots, there is boom of new distillers carrying on the tradition. Here are a few of our favorites.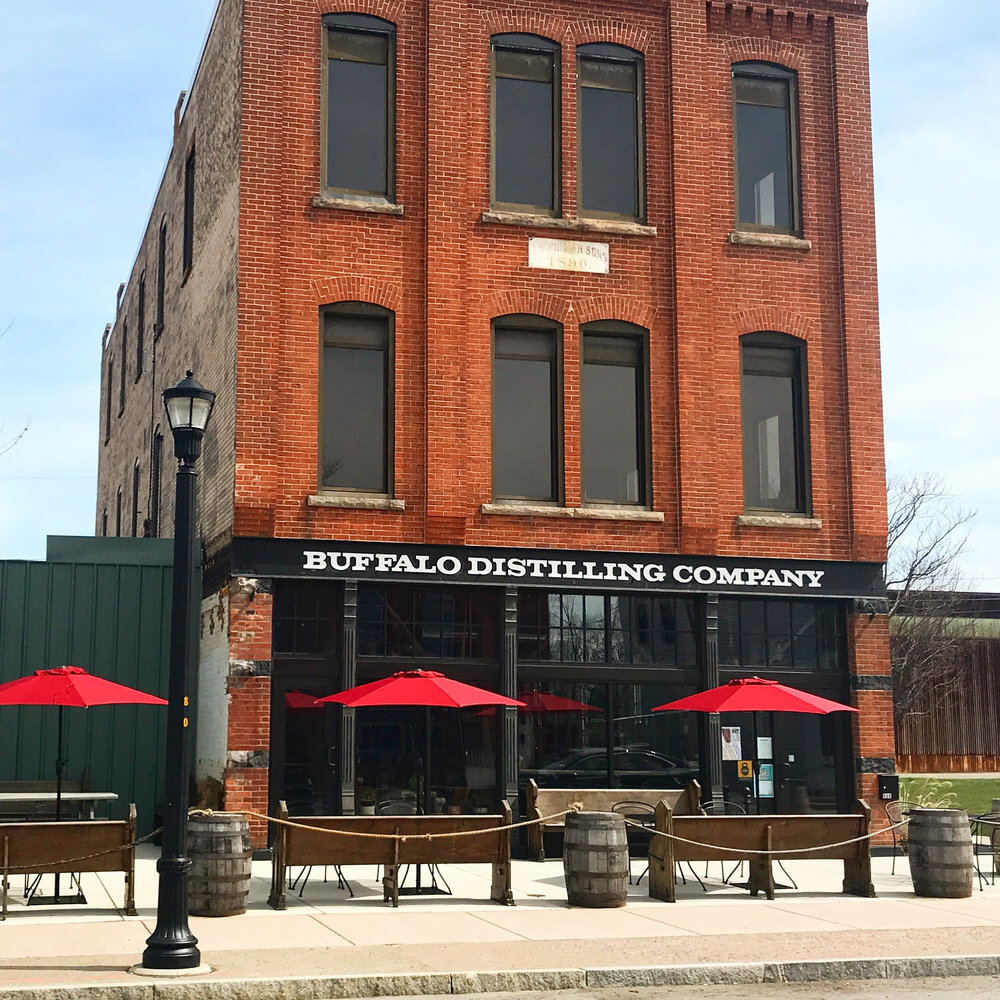 BUFFALO DISTILLING COMPANY
Named after a distillery from the 1890s, Buffalo Distilling Company inhabits a building that manufactured and repaired carriages. They produce spirits under the moniker "One Foot Cock". Be sure to try the Krupnik, a honey-based Polish liquor with long-standing roots in Buffalo. The drink is strong – but we highly recommend a bottle (or two) to go.
FLYING BISON BREWERY
Tim Herzog, owner of Flying Bison Brewery, named his bar after the two biggest industries in WNY in the 1950s: airplanes and brewing. Their microbrews often have an aviation theme: Dawn Patrol Gold, Aviator Red, and Blackbird Stout. You'll also want to try their desert-themed beers including cannoli beer and one flavored with Paula's doughnuts.
OLD FIRST WARD BREWERY
The Old First Ward Brewery is a little off the traveled tourist grid but is well worth visiting. Housed at Gene McCarthy's Tavern, the bar dates back more than a century. Its roots are in Buffalo's Irish community, many of whom worked as grain scoopers in Buffalo's grain silos.
The bar was a gambling hall and had a strict no profanity policy back in the day. While neither applies these days, the bar serves some of the best local brews and wings in town (the Sheffield wing is a must).
COMMUNITY BEER WORKS
Community Beer Works is super passionate about Buffalo beer history. They also support the communities that connect the Buffalo area. They are well known for their philanthropy to local causes and for donating their spent grain to local farms. Check out their new tasting room on Buffalo's burgeoning West Side and do good while enjoying some "damn good beer.
BELTLINE BREWERY: BUFFALO'S NEWEST UP-AND-COMING DISTILLERY
Beltline Brewery is another new Buffalo brewery. They take inspiration from Buffalo's "beltline" railroad system. Working hard as both a freight and commuter rail line, the beltline had 19 commuter stations supporting two dozen trains per day. Beltline Brewery has a new spacious tasting room in Larkinville, a perfect spot for summer nights and a cool beverage.
THE BEST BUFFALO BREWERIES – TOUR THEM ALL!
This article just skims the surface of our favorites. For more ideas of our rich brewing scene, check out Resurgence, Thin Man Brewery, and Froth Brewery. That's not to mention standbys like Riverworks and Pearl Street Brewing. Before long, you'll be extending your stay 🙂
BUFFALO TOURS: EXPERIENCE BUFFALO ON TWO WHEELS!
If you dig Buffalo Brewing History, you'll probably dig Buffalo Bike Tours. Visit our kiosk, hop on our bikes, and join one of our daily bike tours.
Our Buffalo history tours bring the city's past to life through unforgettable stories, songs, humor, and local insight. Or, consider taking one of our Buffalo food tours, where we take you to some of Buffalo's best kept secret foodie places.

Be sure to also check out our Team Building Activity Tours for a private tour experience (yes, we do beer tours!) – or do a tour on your own with one of our Buffalo bike rentals and self-guided tours of Buffalo.

Check out our entire schedule here. Ready to discover the real Buffalo? Book your Buffalo tour now.