BEST BUFFALO WINGS: A DEFINITIVE HISTORY & WHERE TO FIND THEM
While many in Buffalo debate who has the best wings: "Anchor Bar or Duff's?", that just skims the surface. Without doubt, Buffalo, NY is the Chicken Wing Capital of the World. In fact, our city's connection to the fabled culinary dish inspired me to put together an entire tour based on its origins.
Where is the best place to get chicken wings in Buffalo, NY? For the wing novice, it may be hard to know where to even begin. That's why we've compiled the Insiders Guide to Buffalo Wings, a handy resource for wing history and our top picks for Buffalo's best wings. TL:DR: it may be more complicated than you imagined. It's about to get spicy…read on!
(Full disclosure: we rent bikes and lead food tours and history tours by bike, which bring you to many of the city's best sightseeing spots – all on two wheels!)


Inspired by the Wing Ride, we've put together a curated playlist of some of our favorite songs…about poultry. Blues ballads about chicken wings? Check. Punk anthems about boiled chicken? Or course. Rap battles about chicken nuggets? Give these clucky tunes a listen!
CHICKEN WING HISTORY 101
The history of Buffalo Wings is fabled and legendary. There are at least 5 different origin stories of the first chicken wings we're aware of. Here are some of the stories behind what we know today as Buffalo wings.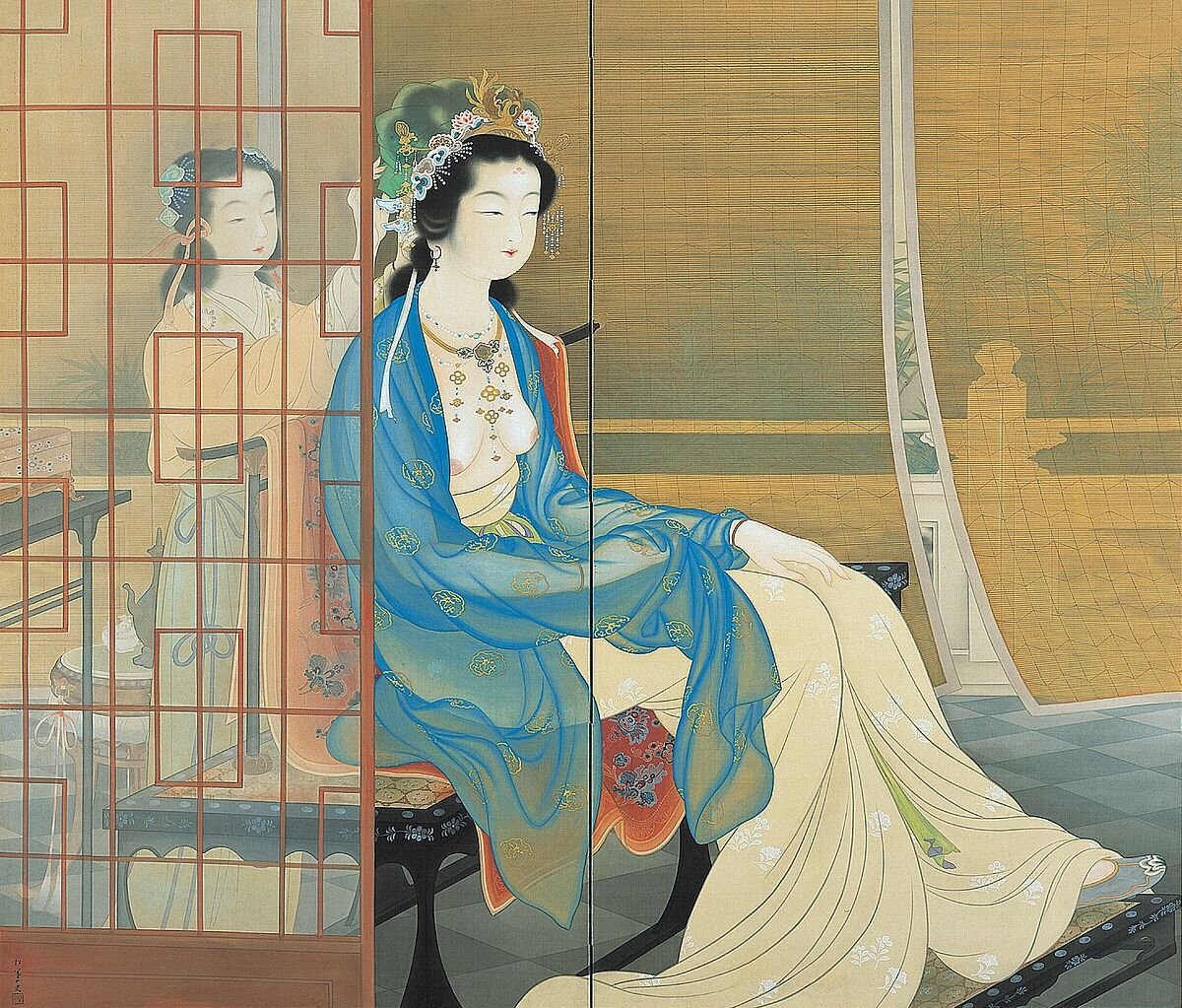 THE IMPERIAL CONSORT CHICKEN WING
The oldest chicken wing recipe we know is the Imperial Consort Chicken Wing, dating back to 750 AD. The epic story tells of the romance between Emporer Xuanzong and his mistress Yang Guifei, one of the four beauties of China.
As the Food Dictator blog describes:
The Xuanzong emperor was so besotted with this plump and lovely consort that although he had over a thousand women in his harem, the only one whom he wanted was Yang Guifei.

This bewitching woman also had a taste for wine and liked getting tipsy. The story behind this chicken dish is that one day she and the emperor were in the Hundred Flower Pavilion sipping wine and having fun when she said mischievously, "I want to fly to the sky!"

The emperor was probably in his cups too, as he thought his beloved consort wanted to eat something that flew, so he ordered his imperial chefs to immediately prepare just such a dish for them. These harried masters of the kitchen quickly came up with a dish of chicken wings for the imperial table, by which point Yang Guifei was sober enough to be so delighted with what they had served that she proclaimed it delicious. And so it was named in her honor.
The Chinese were the first to domesticate the chicken and it only makes sense that the first wings were of Chinese descent. Curious to check out the recipe, we set out to try our hand at the ancient wing. We invited Chef Kae from Tiny Thai to give a cooking demo for a short video. They were delicious!
SWISS CHICKEN WINGS
Another early wing origin story is Swiss Chicken Wings, dating back to the 1850s. Contrary to the name, Swiss Chicken Wings are not from Switzerland nor are they related to Swiss cuisine. These darkly glazed, succulently sweet and savory wings are also Chinese in origin.
The name comes from a translation gone awry. Many years ago a tourist found his way to a Chinese diner, Tai Ping Koon, famous for its east west fusion dishes. The tourist ordered their house special, sweet chicken wings.
Finding the chicken wings delicious, the tourist attempted to discover the name. When the waiter replied "Sweet Chicken", it was mistook for "Swiss Chicken". And thus the name and fame of the Swiss Chicken Wings was born.
The first full-time chicken wing restaurant in Buffalo dates to 1961 and John Young's Wings N' Things. Young, who grew up on an Alabama truck farm, came to Buffalo during the Great Migration. He brought with him his soul food recipes passed down through generations.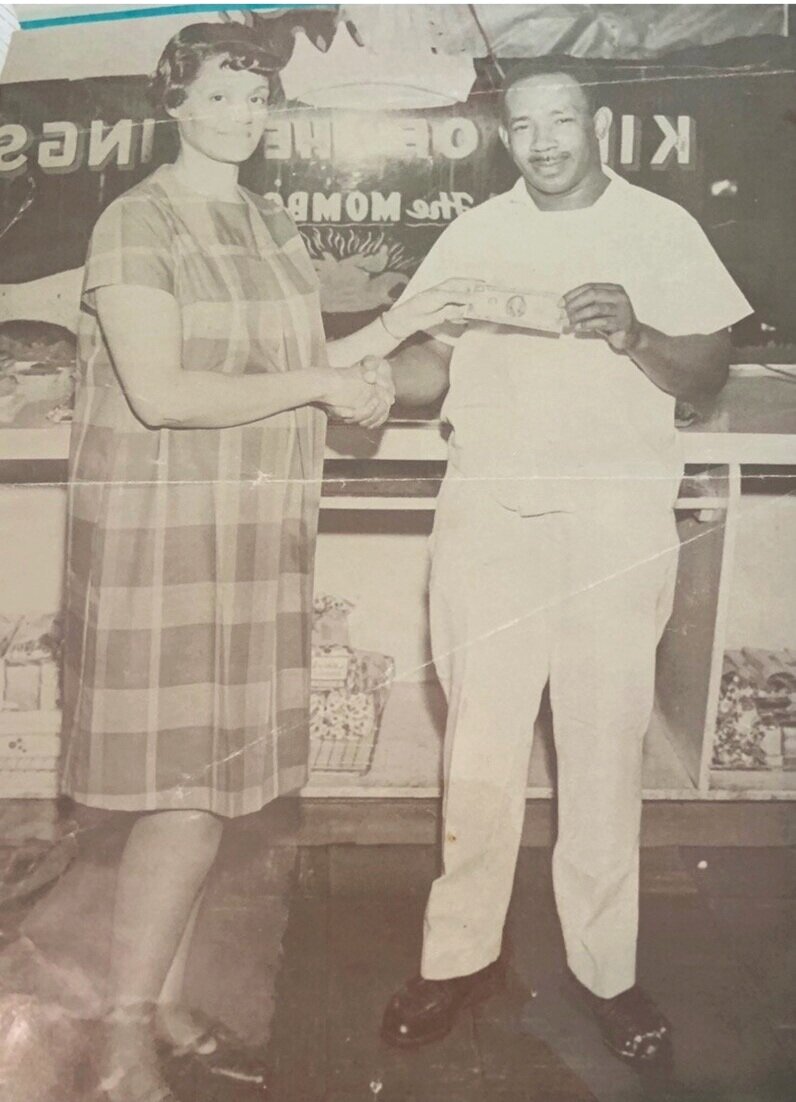 John Young, owner of Wings N' Things
Young's wings were uncut, breaded, deep-fried, and served with his secret mumbo sauce. The sauce was liberally applied to wings, french fries, bread, and just about anything he could find. When Wings N' Things opened, Young said, "people fell out of the sky". Customers lined up around the block to get his chicken wings, reasonably priced at 10 whole wings for $1.
The shop closed shortly after race riots in 1967 and Young lost his place in our collective memory. This is excellently summarized in Rachel Wharton's essay in "American Food: A Not-So-Serious-History," where she connects soul food, the Great Migration, and chicken wings.
"Home of the Original!", proclaims a large mural on the exterior of the Anchor Bar in Buffalo, NY. Most Buffalonians accept the story that Anchor owner Teressa Bellissimo invented chicken wings in 1964.
As Time Magazine reports:
In 1980, Teressa Bellissimo's husband, Frank, told the New Yorker that the wings had been invented out of necessity; the bar had accidentally received a shipment of wings (instead of other chicken parts) and didn't know what to do with them. However, Bellissimo's son, Dominic, disputed his father's story. Dominic claimed that the wings were an impromptu midnight snack Teressa created on his request; he had been drinking with friends and asked his mother to whip up something for them to eat.

Rumor has it that the restaurant first offered their wings free of charge. It was the perfect snack to keep patrons ordering drinks. But, over time, they began charging and it became a staple that began attracting people from across the region.
Most primary sources have long since passed and we may never know the entire truth. Whatever the exact origin may be, the Anchor Bar weathered Buffalo's economic depression long enough to maintain its bragging rights. While it's debatable whether their wings are the original or the best in town, it's worth a visit to cross off your bucket list.

Red & White, in Pavillion, NY, where "Pavillion Wings" were born
PAVILLION WINGS
More recently, we received a tip of yet another origin story: Pavillion Wings. Pavillion wings come from Pavillion, NY, a small town about an hour east of Buffalo and date to the 1950s.
Thomas Snyder recalls:
The true origin of the chicken wing as a food item is that it began in the early 1950's in Pavilion NY by my grandfather, Robert Reinhart. His recipe for chicken wings covered with a sauce made of hot sauce and butter was given to the Anchor Bar by a friend he had in common with the owners of the Anchor Bar. Chicken wings were not invented by the Anchor Bar though it has been believed by the entire world to be so, except for those decedents of my grandfather and some residents of Pavilion who know the truth. I asked my mother and a couple of her siblings and they all told me it is absolutely true that he started making them in the 50's and the recipe was passed on to the Anchor.
Snyder went on to verify the recipe: chicken wings, Frank's hot sauce, and lard. He says they sold them from a roadside stand, located in front of his grandfather's shop, the Red & White.
WAIT, SO WHO INVENTED CHICKEN WINGS?
Needless to say, the origin of wings is murky at best. Many of these stories leave more questions than answers. Take, for example, that John Young's mumbo sauce echoes Washington DC's mambo sauce. Or the fact that the Anchor Bar's first advertisement from 1968 described them as BBQ, and that the first article about Anchor wings in 1981 never mentions hot sauce.
In reality, it's most likely that chicken wings were born more out of necessity than anything else. Poor people who couldn't afford the whole animal often found creative uses for lesser grades of meat. Chicken wings became a staple in Black American kitchens shortly after the Civil War. There's also the Black and Asian connection: the two communities were often located next to one another. This was due to racist redlining policies, such was the case in Buffalo's Michigan Street Corridor, which forced proximity and perhaps collaboration in culinary practices.
HOW DID BUFFALO WINGS GET THEIR NAME?
Regardless of what may actually be the truth, chicken wings were quickly becoming a regional dish in the 1980s and on the menus of dozens of locals pubs. It was said that nearly 80% of chicken wings in the U.S. were consumed in Buffalo, NY alone in the early 1990s.
And then football happened. During the Jim Kelly era, the Buffalo Bills went to the Superbowl four consecutive years…losing every time. The international media exposure propelled our city's humble working class dish to big business. Wings began appearing on menus at national chains Kentucky Fried Chicken, Pizza Hut, and Hooters. This time, they had a new name: "Buffalo Wings". Indeed, our city had become a flavor, thanks in part to our hapless football team.
The football link continues to this day. Wings have become synonymous with the Superbowl, even leading to national wing shortages. After all is said, one thing clear: Buffalo Wings are here to stay.
BUFFALO WING TRAIL
A great resource for chicken wing aficionados is Visit Buffalo Niagara's Buffalo Wing Trail. The local tourism board went undercover in attempts to identify their "delicious dozen": 12 of the best wing joints in Buffalo. Unannounced, staff members would sample wings at eateries throughout the city.
From the VBN site:
But finding the best Buffalo wing in Buffalo goes beyond the unique sauces and preparation techniques. The history, character and atmosphere found in each of the 12 pubs along the new Buffalo Wing Trail are as unique and flavorful as the wings. Your wet naps are waiting.
Also highly recommended is their podcast series, Lord Of the Wings, which gives more context.
OUR TOP 5 BEST WINGS IN BUFFALO, NY
If those origins are contentious, it only gets more heated when it comes to who has the best wings today. There are hundreds of places with great wings in Buffalo and numerous "best of" lists (The Thrillist, Daily Meal, and Buffalo Eats are our favorite reads). While wing fans may never agree, these are our top picks for the best wings in Buffalo.
BEST SPICY WING: DUFF'S
If you're looking for spicy wings, Duff's is place. Their medium is pretty damn spicy and the suicidal – well…enter at your own risk. Many claim this is their favorite wing joint in Buffalo and for good reason. Quick forewarning – Duff's is in the suburbs so best take an Uber or car rental if you're visiting from out of town.
BEST UNDERGROUND WING: OAKK ROOM
Our most under the radar selection is The Oakk Room. Wednesday is wing night – where you can get a rotating wing of the week including alcohol infused wings and chocolate wings. On all the other days, the country fried hot wings are spot on. Not to be outdone, Oakk Room has hilariously named, sexually-suggestive cocktails. They'll have you ordering a second round (and more wings to boot).
BEST FUSION WING: HOTEL LENOX
Hotel Lenox was built for guests of the Pan American Exposition and had famous residents including writer F Scott Fitzgerald. It recently re-opened their restaurant, where they secretly serve up some of the best wings in town. Pro tip: be sure to try their BBQ Korean wing, which they are now bottling its sauce.
BEST WORKING CLASS WING: GENE MCCARTHY'S
Gene McCarthy's represents a meaningful part of Buffalo history – it was the bar of choice for Irish grain workers. Walk in the place and you can feel its history collide with a new microbrewery and live music during the summer. Their wings are some of our favorite in town. Be sure to try the Sheffield dry rub and BBQ blue cheese wings.
BEST CLASSIC WING: GARIEL'S GATE
It goes without saying but no Buffalo wing list is complete without a nod to Gabriel's Gate. The Allentown institution has long been a staple on the Buffalo wing circuit. It's where the locals prefer so be prepared for long wait times!
SAMPLE BUFFALO'S BEST WINGS ON THE WING RIDE
The real answer to Where Are The Best Wings In Buffalo? Well that's to sample them all!
The best way to try Buffalo's best wings is on Buffalo Bike Tours' Wing Ride. This is truly one of Buffalo's most unique food experiences – providing a fun (and delicious!) way to learn about the city. Through our Wing Ride, you'll be able to taste a variety of wings (many only found on our tour) and hear more about their underground histories. This experience will be of interest to anyone who loves wings, history, Buffalo, or all of the above. Need more reason? Check out our blog article "7 Reasons You Must Try A Buffalo Food Tour".
Our Buffalo food tours provide a new side of Buffalo you've never known – even if you're from here. As always, bike rentals are also available. Ready to discover the real Buffalo? Book your tour now.
HUNGRY FOR MORE CHICKEN WING HISTORY?
Check out the recording of the "Hot Takes" virtual lecture we co-hosted with Buffalo History Museum. Enjoy and happy wingin'!