BUFFALO EAST SIDE HISTORY THROUGH SONG
Buffalo Bike Tours has launched a new social distancing bike touring series that gets cyclists out on the road safely, while providing them with some inspiration at the same time. The Bike There Buffalo series offers five different self-guided bike tours to choose from starting May 7 with the East Side Loop.
In conjunction with the tour I've put together this East Side Loop Playlist. The playlist is built around around intersections, both geographical and musical, that show the influence of these artists on one another crossing lines of race, faith, and generations. Dyke and The Blazers sing "We've got Aretha Franklin, doing her thing" and Aretha Franklin sings Harold Arlen's melodies. Benny the Butcher raps "I float through my city like the ghost of Rick James" while Rick James sings about the Jefferson Avenue night life of his childhood. The musical heritage of the East Side is deep and interwoven; best explored through these five intersections.
1. CLINTON AND CAMBRIDGE COURT
At this intersection two children would develop a love of music in their father's houses of worship. One was a Cantor's son who would write the "20th Century's No. 1 song" and the other, a Baptist Preacher's daughter who would grow up to be the Queen of Soul.
Reverend C.L. Franklin was called to Buffalo in 1943 to serve as Pastor at the Friendship Baptist Church. Just west of the church used to stand the first synagogue of the Beth Jacob congregation where in 1904 Cantor Samuel Arluck was called to serve. Both Reverend Franklin and Cantor Arluck were esteemed singers in their own rights but it was their children that would make an indelible mark on American music.
Cantor Samuel Arluck's son Hyman, dropped out of High School at the age of 16 bent on becoming a musician. Cantor Arluck called on a member of his congregation to talk some sense into him. Jack Yellen was in the music business himself known for penning hits like "Happy Days are Here Again," and "Ain't She Sweet." After hearing Hyman play Yellen recognized the kid, like his father, was a born musician. He told the elder Arluck "It's all your fault. He's going to be a musician."
Under his stagename Harold Arlen, wrote the music for too many American standards to even begin to list. A few notable ones are "Get Happy," "Buffalo Rhythm," and "Over the Rainbow."
Reverend C.L. Franklin was well known as the man with the "million dollar voice," regarded for both his sermons and his singing. He occasionally recorded gospel songs like "Wings of Faith." He served as pastor of the Friendship Baptist Church until 1946 when he relocated the family to Detroit where his daughter Aretha Franklin would start singing in his church. There she began a music career that would make her an icon in the Civil Rights movement and furthermore Queen of Soul.
ESSENTIAL INTERSECTION SONG:
"AC-CENT-TCHU-ATE THE POSITIVE" BY ARETHA FRANKLIN
Music by Harold Arlen with words by Johnny Mercer this song was nominated for the Academy Award for Best Original Song in 1944. Aretha Franklin cut a version in 1962 for her second studio album The Electrifying World of Aretha Franklin.
2. BROADWAY AND FILLMORE
Broadway and Fillmore has been the heart of both Polish and African-Americian communities in Buffalo and it's streets are immortalized by songwriters from both communities. The most popular are Dyke and the Blazer's "Funky Broadway" in 1966 and The Goo Goo Dolls "Broadway" in 2000. Although these two songs made significant appearances on Billboard charts, the traditional Polka is the sound most deeply rooted in the neighborhood.
You can find countless Polka songs celebrating the streets and businesses of the Polish east side. "The Paderewski Drive Polka" and "East Side Hop" both by the Buffalo Hi-Notes. The Broadway Market is celebrated in a polka called "To The Market." The Iroquois Brewery and Wardinsky's both have polkas of their own. "Down at the Friendly Tavern" by the The Dynatones recalls The Broadway Grill, a tavern seen on the cover of the album of the same name.
ESSENTIAL INTERSECTION SONG
"WRONG HOUSE" BY DYKE AND THE BLAZERS.
"Wrong House" answers the question of whether or not Polka had any influence on Funk music, a genre pioneered by Dyke and the Blazers. Singer Dyke Christian references his own song "Funky Broadway" as well as directly quoting the popular standard "Too Fat Polka" at the 7:40 mark.
3. BEST AND FILLMORE
Martin Luther King Jr. Park is a great place to reflect on the contributions of two Buffalo soul legends who were inspired by King. Reverend C.L. Franklin was good friends with King and Aretha Franklin sang "Take My Hand, Precious Lord" at King's funeral.
The most apparent influence King had on Buffalo's music was through Gary Byrd. Byrd grew up on Lemon Street and began his career in music as a teenager DJing at WUFO. Through his work in radio Byrd met Stevie Wonder and was asked to write lyrics for two songs on Wonder's 1976 Songs in the Key of Life, Village Ghetto Land and Black Man.
King's influence on Byrd can most clearly be seen in his 1972 solo record Presenting the Gary Byrd Experience. The whole album is full of empowerment and revolution delivered in a proto-rap funk monologue. "How Long My People" starts the album off drawing the image of Dr. King and Malcolm X as reincarnations of W.E.B Du Bois and Marcus Garvey. Byrd has songs profiling The Reverend Jesse Jackson and Malcolm X but it is his song focused on King that is the most poignant moment of the album.
ESSENTIAL INTERSECTION SONG:
"WHERE WERE YOU" BY GARY BYRD
On April 4, 1968 Gary Byrd was 19, still a DJ at WUFO when Martin Luther King Jr. was assassinated in Memphis. On "Where Were You" he urges the listeners to reflect on King's legacy asking "when the shot rang out and the hope for peace died, I wonder, where were you?"
4. JEFFERSON AND FERRY
Rick James on the 600 Block of Main Street in Downtown Buffalo. (Rick James Facebook)
In 1967 Dyke And the Blazers declared the Funky Walk was being done "In Buffalo, on the corner of Jefferson and Ferry." This intersections has been home to a handful of important Buffalo institutions. Doris Records has been open since 1962. GiGi's was a much beloved soul food restaurant until it was claimed by a 2015 fire, alluded to in the Westside Gunn song GiGis. On the southeast corner in a building that no longer stands was the Pine Grill which would play a vital role in Buffalo's music history.
In his biography Rick James, who lived on Ferry as a child, recounts how his mother encouraged his love of music by taking him to the Pine Grill. Grover Washington Jr. told a reporter in 1977 "my musical career started when I used to sneak into the Pine Grill in Buffalo and sit in the back table with a coke, trying to write down all the music I heard."
When Rick James and Grover Washington Jr. we're young there was no shortage of great acts in Buffalo, their younger selves included. Darrell Banks had a #2 hit on the R&B charts with "Open the Door to Your Heart." Brothers Bob & Gene Nunn weren't far off recording in the basement studio of their Orange Street home. Grover Washington Jr. and Dr. Lonnie Smith were playing together in a teen doo-wop group called the Supremes, before they both became jazz icons. Rick James recalls "on the East Side where I started singing hanging out on corners," and "singing with the fellas" in Below the Funk and rephrased in Ghetto Life, recalling his own teen doo-wop group The Duprees.
In the early 1960s entrepreneur Kim Kimbourough managed a group of musicians on his KKC record label which included Baby Wayne, Jimmie Raye, and a group called Carl La Rue and his Crew. Dyke Christian and Alvester Jacobs played bass and guitar for Carl La Rue and after a tour that brought them to Phoenix sometime around 1964 the two decided to stay, forming Dyke and the Blazers and forging an indelible foundation to what would become funk music. Rick James told Elmer Ploetz about the impact Dyke and the Blazers had on him in a 1991 Buffalo News article. "The world was stunned. It was revolutionary as far as what the music was saying, revolutionary as far as its sound," James said. "It showed me somebody from Buffalo could make music that was new and fresh and funky."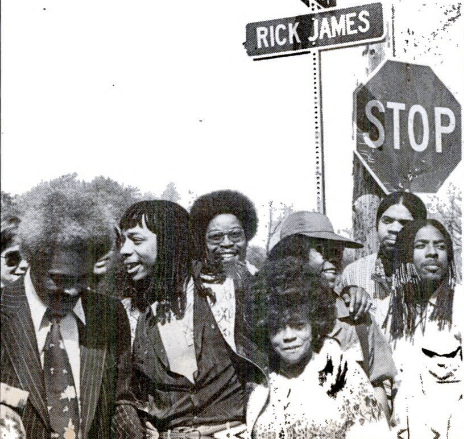 ESSENTIAL INTERSECTION SONG
"JEFFERSON BALL" BY RICK JAMES
If there's any one person who benefited from access to the East Side's bustling mid century music scene it was Rick James. James stood on the shoulders of giants and forged his own way carrying Dyke's Funk to it's apex. Jefferson Ball is Rick James' tribute to the street and night life that inspired him. He writes in the liner notes to his 1979 Bustin Out of L Seven, "'Jefferson Ball' written about Jefferson Ave., Buffalo, New York. This is dedicated to our hometown folks, Buffalo, New York and to all the freaks who have busted out of L Seven."
5. MICHIGAN AND BROADWAY
This intersection is the heart of Buffalo's African-American Heritage Corridor. It was home to numerous significant night clubs that attracted national acts and served as the launching ground for local musicians who went on to become icons in their fields. The Colored Musicians club hosted performers like Al Tinney, Dodo Greene, and Elvin Shepherd who would serve as Grover Washington Jr. 's instructor. All pictured in the mural that adorns the buildings facade. Next to the club is WUFO where DJ's like Eddie O'Jay and Gary Bryd worked. Just south on Michigan was Anna Montegomery's Little Harlem Hotel.
Ohio born jazz violinist Leroy "Stuff" Smith married a Buffalo woman named Marion Harris in 1930 and settled in Buffalo. He got a band together to play at The Little Harlem, and later ran the house band at Club Moonglo a block south at William. Smith would take his band to New York and become well known as "the cat who took the apron strings off the fiddle" but it was here at this intersection that he developed the stage presence and style that would take him there.
ESSENTIAL INTERSECTION SONG
"IT'S ONLY A PAPER MOON" BY STUFF SMITH AND DIZZY GILLESPIE.
Stuff Smith shows off the violin skills that made him famous on this record trading solos with Dizzy Gillespie on this song from the Great American Songbook written by Harold Arlen.
SONGS AND ARTISTS MENTIONED IN THIS ARTICLE AND MORE CAN BE FOUND ON THE EAST SIDE LOOP PLAYLIST ON SPOTIFY, AN IDEAL COMPANION FOR YOUR SELF GUIDED TOUR.
TYLER BAGWELL IS A HISTORIAN AND FOLK SINGER LIVING IN BUFFALO, NY. SEE MORE OF HIS WORK AND HEAR HIS MUSIC AT HTTP://TYLERBAGWELL.COM/
---
BUFFALO TOURS: EXPERIENCE BUFFALO ON TWO WHEELS!
For more on Buffalo's East Side history, be sure to check out our Wing Ride Chicken Wing History Tour. Be sure to also check out our Bike There Buffalo self guided tours. As always, Buffalo bike rentals are available for all our tours.